Editor's note: As we all know, every minute in the production process has an impact on the company's revenue. This means that every minute in the production process is valuable. Every commercial printing plant produces different preparation times when it is produced on different papers, and the time required to reach the saddle stitcher varies from job to job. When the jobs requiring binding have different sizes and lengths, the slow transfer speed of the binding machine can cause losses to the company.
In order to keep pace with the pace of production of new equipment and to maintain its competitiveness in the market, the Suttle-Straus commercial printing plant with $34 million in assets and Evergreen Printing & Publishing commercial printing with 220 employees specializing in color newspaper printing The factory installed Heidelberg and Martini saddle stitchers earlier this year.
When selecting a new saddle stitcher, Suttle-Straus mainly considered two factors: production preparation time and running speed. Before installing the ST 400 horse-stitched stapler in Heidelberg, the company's 206 employees were produced using two old-fashioned binding machines that required manual adjustments. However, after installing ST 400 in March 2006, Suttle-Straus was freed from the long production cycle and production preparation time.
Old-fashioned machines are out of date
The unit was installed in a 220,000-square-foot facility at Suttle-Straus. It was equipped with 6 vertical book bins, two horizontal book bins, and a cover jam delivery device. Ted Straus, the company's chief operating officer, explained: "We purchased this equipment for expansion, and its modular design allows us to upgrade as needed."
Straus said: "The device is designed specifically for the production of industrial publications, it can adjust the product in production. Its high level of automation, can automatically preset the entire device, while automatically adjusting the paper feeder , the status of the saddle stitcher, and the trimmer, making it ready for production." Suttle-Straus once considered the products of other equipment suppliers or second-hand equipment, but eventually found that although many equipment production speeds were high, There is no automation required to save production preparation time. Straus said: "In my business, production preparation time is more important than the number of printing money factor."
Suttle-Straus mainly produces products such as catalogs and manuals on a variety of papers, so automation is the main problem. Previously required to spend two to three hours on the old machine to prepare for the job, now only 30 minutes to get on the ST 400's computer interface. Straus explained: "You just enter the information about the size and parameters of the job into the computer. It will help you set up the book, which greatly shortens the production preparation time." People can also input paper parameters into the computer. , so that the production speed becomes faster.
With the help of new devices
The Suttle-Straus ST 400 saddle stitcher has CIP4/JDF capabilities, but the company has not yet used it. Straus expects to control the transfer time between 15 and 20 minutes when it comes time to use these features next year.
When choosing a saddle stitcher, speed is also an important factor. Suttle-Straus's jobs are generally between 5,000 and 10,000 prints, but sometimes more. Previously, the company's production speed was 2500 to 3000 cph, and after using the new machine, their average speed reached 10,000 cph, and it is even expected to increase by another 1,000 to 1,500 prints. Straus pointed out: "Our employees are still working hard to achieve faster binding speeds."
In the decision-making process, the company also merged two devices into one. Straus said: "When we made the decision, we only considered the internal cost savings, but did not consider the issue of revenue generation. Although the cost of equipment is relatively high, we can get higher productivity from it. Now just put into production In the past month, we have recouped about 80% of the cost, and we believe it can help us achieve our target of return on investment."
Front-end and back-end speeds have been improved
Two years ago, Evergreen Printing & Publishing installed a Dauphin Graphic Machines (DGM) 440 press, which can be used both as two independent presses with a speed of 40,000 cph, or as one large Printing machine to use. Due to the large footprint of this device, the area processed by the press was affected. In May 2006, the company installed Martini's Bravo Plus saddle stitcher and an AlphaLiner inserter.
Although the speed of this device can be even higher, Evergreen kept the average production speed of BravoPlus at 10,000 cph. The BravoPlus stapler can hold up to ten bookshelves, and the company uses eight tables that are equipped with eight books. In general, it can only use six.
The Evergreen company produces jobs that typically measure from 8.125 x 10.75" to 10.875 x 16", sometimes with 5.5 x 10" or 5.5 x 5" double-row jobs. The number of pages is between 4 and 200 pages. . The company has two production buildings and covers an area of ​​160,000 square feet. Major print products include magazines and newspapers.
Given the type of these products, BravoPlus became an integral part of Evergreen. Meyer, the company's process control manager, said: "This is the choice of every binder. They are all willing to use this equipment. Because of its high productivity and speed, the company's output has also been improved."



Source newmaker
We offer a wide choice of different types of Patio furniture collections, which cover garden rattan sofa, outdoor dining set, chat set, rattan bar set. With splendid style and smooth line, every details and quality is presently perfectly. Excellent surface treatment process and the selection of products for climate and UV have long-term protection ability, getting more than your money`s worth.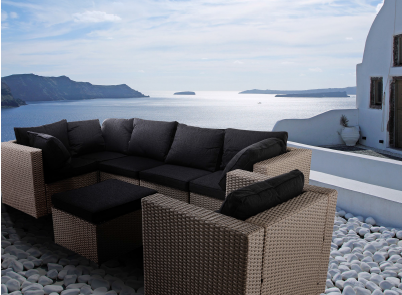 Patio Furniture Sets,Outdoor Patio Furniture,Patio Chairs,Garden Table And Chairs
SEVENZE INDUSTRAL CO.,LIMITED , http://www.sevenze.com