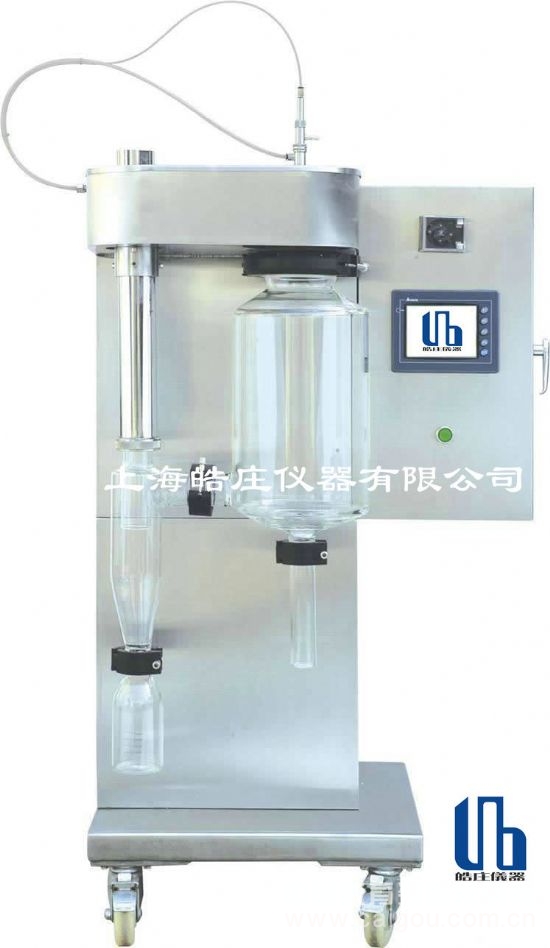 Shanghai Xinzhuang Instrument Co., Ltd. Xinzhuang (LNB) brand small spray dryer - spray drying is a method of systematic application of material drying, after the liquid material is atomized in the drying chamber, in contact with hot air In the middle, the moisture is instantaneously vaporized, that is, the dried product is obtained, and the method can directly dry the solution and the emulsion into a powdery or granular product, and the steps of evaporation, pulverization, etc. can be omitted, and the obtained particles are uniformly distributed.
Spray drying has the characteristics of fast heat transfer, rapid evaporation of water, instant drying time, good product quality and good solubility, which can improve the dissolution rate of some preparations. In addition, spray drying can also be used to prepare microcapsules.
"If you want to do something good, you must first sharpen it." For the physical or chemical properties of different materials, as well as the size and solubility of the powder or particles that need to be obtained in the experiment, researchers may need laboratory sprays of a type that cannot be used. The dryer can get the best experimental results.
1) High sugar content (if juice, Chinese herbal medicine or natural product extract) or heat sensitive material
Because most of the polysaccharide disaccharides have a relatively low melting point, when the sugar is heated, the sugar melts, and the polysaccharide disaccharide itself is relatively easy to absorb moisture, so ordinary spray dryers are prone to sticking, which is not easy. Get good dry powder or granules. In addition, like enzyme preparations, live bacteria and some high-molecular materials that are easily denatured at high temperatures, ordinary spray dryers are used, and the materials are easily deactivated or denatured. At this time, the inlet air temperature and air output of the spray dryer are lowered. At the temperature, better experimental results can be obtained. The L-6000Y laboratory spray dryer and the L-6000 laboratory low-temperature spray dryer of Shanghai Xinzhuang Instrument Co., Ltd. can test at a relatively low inlet air temperature, for example, L The inlet air temperature of the -6000Y laboratory spray dryer can be set to 110 ° C. Generally, the materials with high sugar content can get better particles. Some materials may have a lower melting point of sugar, while the L-6000 laboratory low-temperature spray dryer can complete the spray dryer process at 60-80 ° C, such as enzyme preparations, live bacteria, etc. The temperature is instantaneously dried and the activity is completely unaffected.
2) The solvent is an organic solvent or an easily oxidizable material
In spray drying, it is difficult to dry the organic solvent. Generally, the organic solvent will be inflammable and explosive. The explosion-proof closed laboratory spray dryer can circulate the material in a closed drying system. The whole system is filled with inert gas. (such as nitrogen or argon), to avoid contact between the organic solvent gas and the outside oxygen air, to ensure safe production. Shanghai Xinzhuang L-6000Y experimental organic solvent spray dryer adopts a safe nitrogen (or other inert gas) closed circulation mode. The whole system is completely closed, and the oxygen concentration is monitored online. Once the oxygen concentration in the system reaches 1.5%. The system will automatically stop and alarm, and it is a small-sized spray dryer for laboratory organic solvents with good safety and easy operation. It can be used for flammable and toxic solvents through the closed loop of nitrogen and the complete recovery of solvent. It is processed and dried with oxidizable substances. Further, since the boiling point of the organic solvent is low, it is possible to dry the substance which is susceptible to heat denaturation by a low-temperature drying method.
3) Materials requiring large particle powder
In some experiments, researchers hope to get some samples of large particles, such as the catalyst industry, generally need about 100 microns of particles to have better catalytic effect, but the ordinary spray dryer can only get particles below 30 microns. , L-6000 laboratory spray drying granulator, can be better to achieve the purpose of the experiment. The L-6000 spray granulator can be used as a separate spray dryer to obtain particles of about 100 microns, and can also achieve granulation of small particle powders, and can obtain large particles of 100 microns or more.
4) Materials that are extremely heat sensitive or require improved solubility
Some materials are basically not heated, the traditional freeze-drying time is very long, and the dried materials are in a block shape, the fluidity is poor, and the solubility is not very good. Compared with the traditional freeze-drying technology, the L-6000Y laboratory spray freeze dryer has the following advantages: (1) The atomized and dispersed fine droplets are immersed in low temperature and rapidly frozen, which can weaken the growth of ice crystals and reduce the ice crystals to lipids. Destruction of the body to avoid leakage and burst release of the drug; (2) The frozen sample is vacuum dried to form spherical particles having a microporous structure, and the fluidity is good, and the size of the particles can be adjusted by changing the spraying process. L-6000Y laboratory spray freeze dryer is suitable for low temperature drying of heat sensitive, viscous, active materials and materials with high sugar content, such as Chinese herbal medicine natural product extract, dairy products, biological preparations, enzyme preparations, fruit juice , polymer materials, etc.
For materials that require direct access to nanomaterials, the L-6000 laboratory spray freeze dryer is also an excellent choice.
5) Conventional materials
Some laboratories are used for the preparation of conventional powders or the drying of materials. You can use the L-series laboratory spray dryer. It is small in size, fast in speed, low in noise and easy to operate, and 20ML material can complete an experiment and dry out. The powder has a good sphericity and the particle size is too distributed. In particular, the machine has a spray head water cooling device and a tower wall purging function, which greatly expands the application of the laboratory spray dryer.
For more information on small spray dryers, please contact Shanghai Xinzhuang Instrument Co., Ltd., Shanghai Xinzhuang Instrument Co., Ltd. R & D, production and sales: spray dryer, spray dryer, spray dryer, small spray dryer, small spray drying Laboratory equipment such as machine, small spray dryer, experimental spray dryer, welcome your inquiry!
Our Pvc Shower Curtain is using non-toxic PVC material, this 100% environmental friendly material with safe printing doesn't release any unpleasant smell, which guarantee a good and safe environment of your bathroom. It is waterproof, anti-bacterial and mildew resistant.12 Rust-resistant metal grommets with 12 piece C Type hooks.Classic design & Durable characteristics are just for your home life.
Going green is good for you. Eco-friendly products are often better quality, and they leave the Earth in better shape for future generations. If you`re worried about harmful chemicals and carcinogens (ingredients that cause cancer), our sustainable items are a great choice.
Shower Curtain Pvc,Pvc Shower Curtain,Hookless Shower Curtain,Plastic Curtains
Shandong Jiayuan Plastics Technology Co., Ltd. , https://www.tablecloth.nl